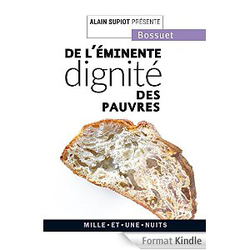 We hardly listen to to sermons. This is probably why Alain Supiot puts us on the table the text of Bossuet only occupying few pages, but since 1659 occupies the minds on "l'éminente dignité des pauves" (the eminent dignity of the poor). When Bossuet speaks of wealth and poverty, economists have interest in reading it. When Bossuet speaks of just order and "rightful place", lawyers must read it.
Alain Supiot comments it by writing to the following "Le renversement de l'ordre du monde" (The reversal of the order of the world).
Bossuet reminds that wealthy people think everything is owed to them while grace is given to the poor. Bossuet contends that rich people have interest to share with the poor, for thus it can alleviate the wealth that overwhelm them and they can enter the community (composed by the Church) in which poor people occupy the first place by natural order.
In his study, Alain Supiot looks back on the very definition of 'poverty', which accounts for the money the individual has. He takes up the theme of Bossuet to assert that, contrary to what the result of statistical methods (how much per person per day), the wealthy are "poor" since the market isolates them, spreading them of solidarity. Yet the natural order should lead them to share, by paying taxes, and other mechanisms through the welfare state. But he notes that the State departs increasingly this function, drawn in by this model only wealthy (the "rich-poor"), the only available model becoming what Alain Supiot calls "le marché total" (total market)!footnote-15.
We can no share this view of the world, for example if it is believed that the rich share (Social Responsibility Company theory), or if one believes that the state - sort of church - was often selfish, but already listen to the first advice: read Bossuet.

Reading the Union Address by President Barack Obama of the 21th of January 2015 themed fair sharing between rich and poor by public redistribution, we think back to Bossuet.