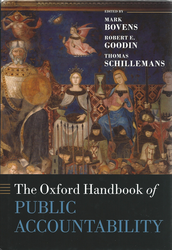 Published by Oxford University Press (OUF), the collective book, Public Accountability, edited by Mark Bovens, Robert Goodin and Thomas Schillemann, consists of 43 contributions.
Few strictly focus on issues of regulatory matters. One can still quote the article by Colin Scott on Independent Regulators or those of Christie Hayne, Steven E. Salterio and Paul L. Posner and Shahan Asif on auditing (Accounting and Auditing; Audit Institutions).
The subject of most of the contributions is rather the necessary renewal of the management of the State, public governance incorporating this new way of "accountability," which explains the book title : itself: Public Accountability. But as we know that the line between public and private is more porous than ever, we can appreciate that the bookk extends its thoughts to the governance of private organizations or non-profit private sector by some contributions.
Indeed, the fact that Accountability is what is common to the Regulation and Governance. This is the first sentence of the book : "Accountability is the buzzword of modern governance".
Probably because of accountability has become a central concept, as shown in the introductory contribution, these are the articles that confront the most general elements such as "time" (Accountability and Time), "crisis" (Accountability for Crise) or "trust" (Accountability and trust), which are the most instructive for the future.
Thus, despite its collective character, the book is very consistent and often takes a critical tone about this invasion of public space by the will of accoutability, the authors emphasizing the "deficits", the failures and especially thet prohibitively expensive of this mechanism.
It would come to regret the simple mechanism of hierarchical rule to which a nostalgic contribution is devoted, which describes how operated the State before we apply to it the State the agency theory.
So it is a practical book, complete, critical and prospective, of great interest.