📅 Cycle of colloquia 2021 around Compliance Juridictionnalization
ComplianceTech®. Pour lire cette fiche en français, cliquez sur le drapeau français
►This scientific event is placed under the scientific responsibility of Marie-Anne Frison-Roche, Juliette Morel Maroger and Sophie Schiller. It is organized by the Journal of Regulation & Compliance (JoRC) and by the Centre de recherche en Droit (CR2D) of Paris Dauphine-PSL University.
This event is part of the 2021 colloquia cycle around the general theme of Compliance Jurisdictionalisation.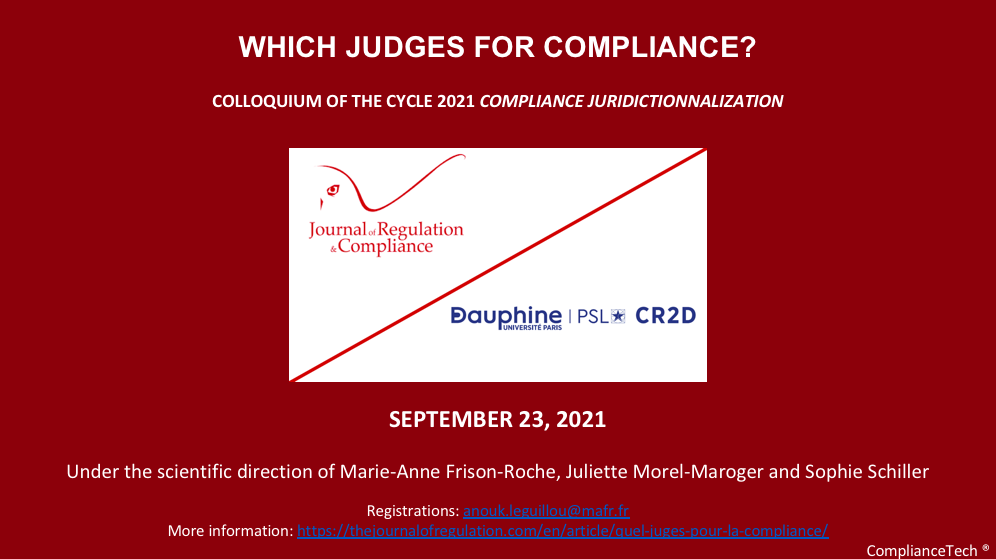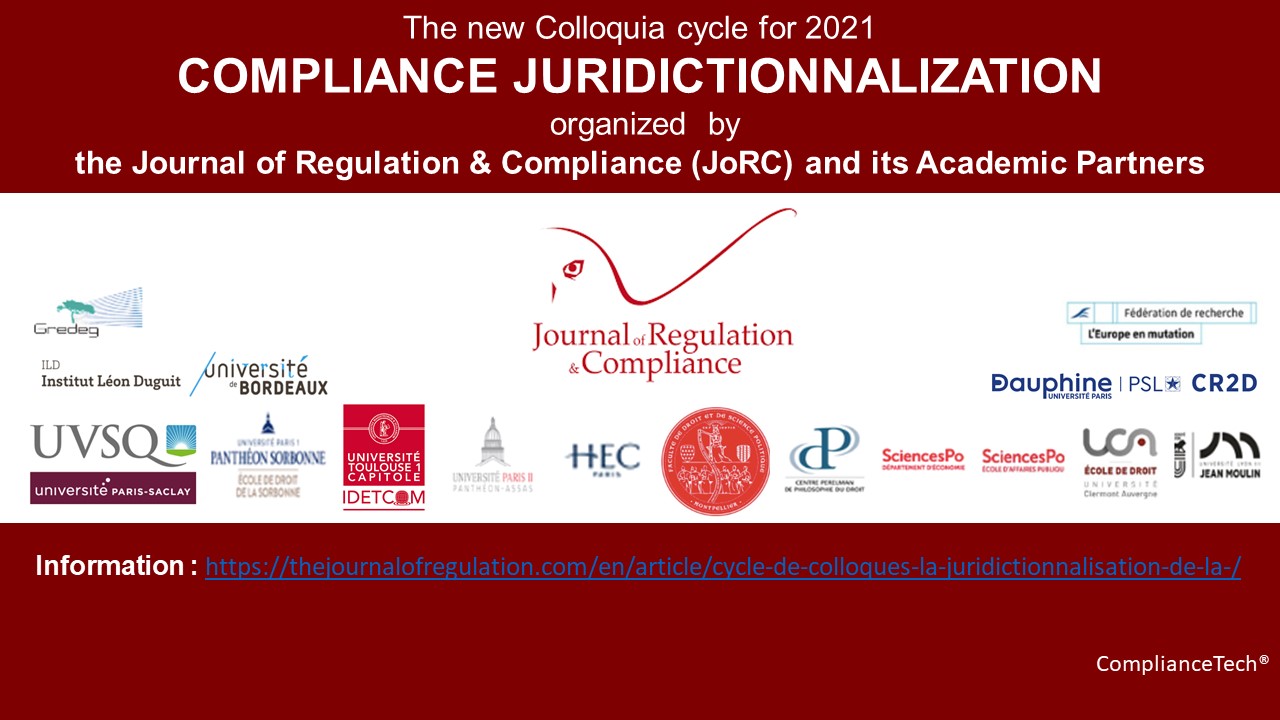 ►The interventions will be then transformed into a chapter in the books: contributions in the 📕 La Juridictionnalisation de la Compliance , to be published the Regulation & Compliance series ries, jointly published by the Journal of Regulation & Compliance (JoR)C and Dalloz
📘Compliance Jurisdictionalisation,
to be published in the Compliance & Regulation Series , co published by the Journal of Regulation & Compliance (JoRC) and Bruylant.
____
This colloquium will take place in Paris Dauphine-PSL University in September 2021.
Presentation of the topic :
Judges, regulatory and supervisory authorities, or even authorities specially instituted by Compliance Law, such as the Agence Française Anticorruption (French Anticorruption Agency), must implement it.
The colloquium aims initially to identify and discuss the procedural rules that they then specifically implement, in particular when the strong requirements of Compliance Law, efficiency and immediacy, new negotiation techniques and commitment, must be articulated with the traditional procedural requirements that remain.
The question arises in particular as to whether the rules of a fair trial should apply (or can they be similar in transactional procedures and in the context of judicial procedures, and how the control by judges operates during homologation) in transactional procedures, with more or less specific treatment of the evidence used.
Secondly, the colloquium considers the way in which the different judges assess the different constitutive standards of Compliance Law. These are often soft Law and depending on whether the judge is repressive, administrative, or European, his or her assessment will not be legally of the same scope or of the same nature, which together leads to an issue of articulation of method. Due to the breadth of the subject, certain sectors will be particularly examined, in particular the banking sector.
Thirdly, the way in which the judge himself or herself applies Compliance Law will be examined, in what appears to be a balance between pedagogy and sanction. It then appears to play a triple role, in that it ensures compliance with standards but also in that it must find effective solutions in a Law which is more in Ex Ante than in Ex Post and that it must support operators so that they act effectively, by mastering their obligations. The motivation for decisions then appears to be a primary issue.
Because this last phase concerns the even more direct relationship between the judge and the operators and stakeholders, this theme is intended to give rise to a presentation and a round table.
______________
Will speak notably:
Nicolas Cayrol, Professor at Tours Law School and Director of the Institut d'Etudes Judiciaires François Grua
Read a more detailed presentation below:
WHICH JUDGES FOR COMPLIANCE?
23rd of September 2021, from 2pm to 6.30pm
On site
Co-organized by the Journal of Regulation & Compliance (JoRC) and the Centre de Recherche en Droit de l'Université Paris Dauphine-PSL (CR2D)
under the scientific direction of Marie-Anne Frison-Roche,
Juliette Morel-Maroger
and Sophie Schiller
2.30 Welcome words
2.35. General approach of the judge's role in Compliance Law by Marie-Anne Frison-Roche, Director of the Journal of Regulation & Compliance (JoRC)
I. IMPREGNATION OF PROCESSUAL PRINCIPLES IN COMPLIANCE LAW
2.50. Intervention of Nicolas Cayrol, Professor at Tours University, Director of the Institut d'Etudes Judiciaire (IEJ) François Grua
3.10. Intervention of Jean-François Bohnert, Financial National Prosecutor
3.30. Intervention of Sophie Scemla, Associate Attorney at Gide Law Firm
Discussion
II. JURISDICTIONAL INFLUENCE IN THE APPLICATION OF COMPLIANCE NORMS
4.00. Intervention of Juliette Morel-Maroger, Professor at Paris Dauphine-PSL University
4.20. Intervention of Jean-Michel Darrois, Darrois Villey Maillot Brochier Law Firm
4.40 Intervention of Fabien Raynaud, Conseiller d'Etat
III. THE APPLICATION OF COMPLIANCE BY PROSECUTION AND JUDGEMENT AUTHORITIES: THE BALANCE BETWEEN PEDAGOGY AND SANCTION
5.00. General approach of the application of Compliance by Prosecution and judgement authorities: the balance between pedagogy and sanctions, by Sophie Schiller
Round-Table, animated by Sophie Schiller : with
___________
6.30. End of works.
______