This book is written in French (English translation of its title : Corpoate Responsability and coregulation)Com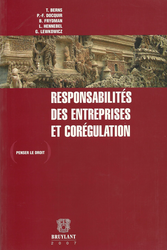 Complete reference : BERNS, Thomas, DOCQUIR, Pierre-François, FRYDMAN, Benoït, HENNEBEL, Ludovic and LEWKOWICZ, Gregory, Responsabilité des entreprises et corégulation, coll. "Penser le droit", Bruylant ed, Bruxelles, 2007, 226 p.
____
Read the coverback (in French).
Read the table of contents (in French).
_____