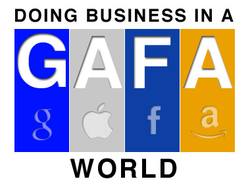 The laws are general and abstract. It is the mark of their modernity (Max Weber) and the mark of the rule of law. Thus, a State adopting or applying for adoption of a text against a designated person or a company that aims is literally backwards.

However, France and Germany have asked 27 November 2014 to the European Commission to take steps against those who hold the platforms on the Internet, including search engines. Everyone knows that this is the famous "GAFA" (Google, Apple, Facebook and Amazon).

It seems that the EU institutions fit, since the European Parliament voted on November 27 a text saying that it could ban these companies to monetize their platform activities themselves.

By their regulatory perspectives, Europe gets "retrograde" against the US dynamism?

At first glance, one might say. But it may be that these companies have become "critical", they take the heart of the digital economy, or even the knowledge economy and social cohesion. In such cases, the regulation of these objective phenomena justifies intervene directly in companies in which the social group comes to identify itself. If the company comes to stifle others, it is not that it stifles competition only, but innovation and free expression.

Then pass the mere vigilance competition law instruments of regulation, common in banking and financial law, such as transparency requirements.

This demonstrates Regulation and Supervision meet when companies become crucial.